A different kind of workplace
A state-of-the-art physiotherapy, injury prevention and rehab clinic

Location
Ljubljana, Slovenia



Sustainability
FSC sourced wood



Services
Strategy, Design, Delivery
A one-of-a-kind client, an amazing idea, and a top-tier space.
MedicoFIT is a clinic for preventing and healing sports injuries, as well as for physiotherapy. It was designed and built on the base of our client's special business idea. Not only is the clinic modern and sleek, but it's also made in a way that makes their clients realise that they have entrusted their bodies into very safe and extremely capable hands.
After the clients' health status is assessed and proper physiotherapeutic methods have been applied, they leave the physiotherapy section and are introduced to the MedicoFIT gym area, where the second set of experts elevates the work of their colleagues and perfectly complements the previously-done physiotherapy work, bringing the clients to the best health state possible.
With this step, the service is complete, and at a level that not everyone can provide. We, at CAMAC Space, are extremely proud to have done our part in developing and building this story. Our designers had to listen to the client carefully, assess the legislation, while our construction managers had to deal with strict quality standards and meet extremely tight deadlines to allow for a seamless transition to a newly-built space.

Happy to announce!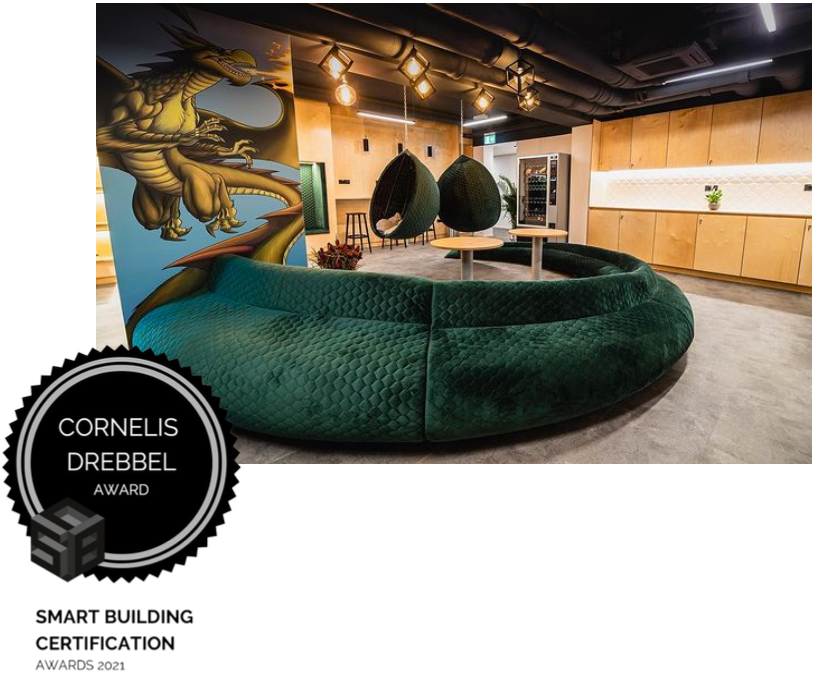 We are delighted and proud to announce that, after being chosen as one of the top 15 projects across the globe to be in the running for the prestigious Futureproof awards, we have come out on top, as the #1 ranked project for the traditional industries »Smartest Building 2021 Cornelis Drebbel Award« (Inventor and Innovation, how is your building innovating)!
🏆
We want to thank everyone who chipped in and participated in the Dragons Dream project. It's a huge honour to be chosen as the victor, when all the other entries were also at the highest possible level and could all have conceivably won in their own right.
This award is just one of the many confirmations that we, at Camac Space, can compete with the very best in the world and create top-notch unique and tailored solutions for any of our clients.
Now bring on the next project!
☺️