Designing and building an intelligent and fully-autonomous hostel
What makes the Dragons Dream hostel special?

Location
Ljubljana, Slovenia



Sustainability
FSC sourced wood, 40 environmental sensors

Technology
Digital Keys, Cloud and Edge technology, Cybro-3 controller, HiQ-Hotel, IoT, Lighting iQ, GRMS iQ, HVAC iQ


Services
Strategy, Design, Delivery
This was a special project for a special client.
Building a hostel seemed like it would be a bit out of our comfort zone at first, but we accepted the challenge and made the client's dream a reality. We collaborated with artists from across the globe to incorporate one-off amazing custom art designs into the actual building spaces and make everything flow together seamlessly, to properly depict the hostel's story and character. The amazing pod hostel is located in Ljubljana, Slovenia, and is completely autonomous, thanks to our intelligent solutions partner – Robotina. If the owner of the building chooses to do so, he has the ability and option of running the entire hostel without any staff members physically present. The project has also been nominated as one of the top 15 projects across the globe for the prestigious FutureProof "Smartest building 2021 global" award, which is a huge honour and accomplishment in itself, and the winners have yet to be decided.
About halfway through the project, COVID restrictions o­fficially put a hold on the construction process and delayed the timeline of the execution. Thankfully, our client wasn't in a hurry, and as soon as we could, we delivered the final product snag free. The whole space mimics a dragon's den and the visual & audio features enhance the user experience to the highest level. The Dragons Dream hostel is a great example of how to optimise the use of space to make it look and feel stunning.
We are more than happy with the end product, but don't ask us to do it again - we'll stick to what we know and do best – workplaces!

Happy to announce!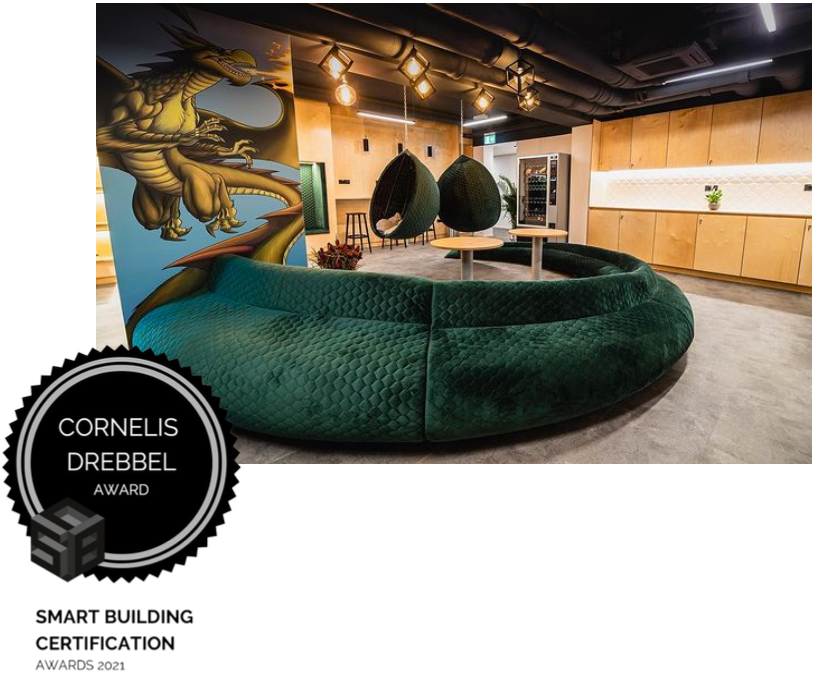 We are delighted and proud to announce that, after being chosen as one of the top 15 projects across the globe to be in the running for the prestigious Futureproof awards, we have come out on top, as the #1 ranked project for the traditional industries »Smartest Building 2021 Cornelis Drebbel Award« (Inventor and Innovation, how is your building innovating)!
🏆
We want to thank everyone who chipped in and participated in the Dragons Dream project. It's a huge honour to be chosen as the victor, when all the other entries were also at the highest possible level and could all have conceivably won in their own right.
This award is just one of the many confirmations that we, at Camac Space, can compete with the very best in the world and create top-notch unique and tailored solutions for any of our clients.
Now bring on the next project!
☺️